Have you ever wondered why some graphic designers spend so much time creating the thumbnails of Youtubers? A bit like a book cover and beyond the aesthetic aspect, the thumbnail of a YouTube video also has its own role to play. In this article, the experts from the Academy explain how a thumbnail can impact a YouTube video.
Attracting attention
This is the most obvious reason, but yes, your thumbnail needs to attract attention because with all the YouTube videos available, you need to stand out from the rest! Indeed, YouTube thumbnails give a first impression of your content. Let's compare it to the cover of a book, on the cover you can find the title of the work. This can give you a vague idea of what the book is about, but what can make you want to read that particular book is probably the summary that can be found on the back cover. However, a YouTube video cannot "summarize" itself.
This is why it is important to work on your thumbnails! It must be able to convey the subject of your video while being attractive enough to attract the attention of the viewer.
Organize your videos
The thumbnail can also allow you to organize your videos, a bit like a playlist (and why not combine the two?). For example, if you are going to post videos about a particular video game, you can create thumbnails dedicated to that series of videos! The advantages are such that you will save time when creating the thumbnail by using recurring elements and you will be able to quickly modify these thumbnails. In addition, it also makes it even easier for your subscribers to recognize the subject of the video because if they have been following this video series, they know what to expect when they click on the video ;). So, by looking at your thumbnail, your subscribers will immediately know that the new issue of their video series has been published! Their enthusiasm will be even greater.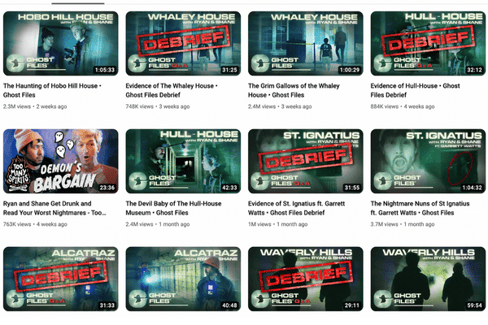 Example with the channel Watcher and their "Ghost Files" video series
Develop your creativity
As we said before, your thumbnails must attract attention. To do this, they must be original, aesthetic and attractive to your audience. That's a lot, isn't it? Creating a thumbnail is not an easy task! Even if you can find online templates or tutorials to help you create your thumbnails, it takes time and technique.

To help you, we advise you to add these few elements that will level up your thumbnails:
Typography: not to be neglected but be careful not to use too much or too little!
Color contrasts: you can highlight an element just with color, don't hesitate to try several until you get the desired result!
Portraits: zooming in on faces and expressions is very popular on YouTube
Adding perspective: try to give some life to your miniatures by playing with textures and special effects (3D, blur...)
While some YouTubers prefer to make their thumbnails on their own, others have chosen to hire professional graphic designers who specialize in YouTube codes to make thumbnails for them. At The Creative Academy, we teach this through our graphic design course, the YouTube Designer Bootcamp, which is specialized in YouTube and social networks. Students learn how to create thumbnails and make them work for your videos!
Increase your income
An effective thumbnail is one that gets more clicks and therefore more views and potentially more revenue. If there's one thing you need to remember about what it takes to make a video explode on YouTube, it's that clickability and the ability to follow through on a video (otherwise known as retention) are synonymous with success on YouTube!
Compared to Facebook, most video content is consumed by scrolling while on YouTube, viewers choose to watch that video. So YouTube is more of a "select" experience for viewers. That's why it's important to take good care of your thumbnails because this time it's important to make a good impression!
Vous l'aurez compris, même si sur YouTube, la miniature n'est pas ce sur quoi vous alliez vous concentrer en pensant à la plateforme, elle va en réalité de paire avec la vidéo. Elle permet aux spectateurs de déterminer s' ils vont cliquer sur cette vidéo ou non et donc impacter votre engagement. Chez The Creative Academy, vous pouvez retrouver des articles ou des posts sur nos réseaux sociaux où nos experts vous dévoilent nos secrets (ou presque) des miniatures qui performent !
As you can see, even though on YouTube, the thumbnail is not what you would focus on when thinking about the platform, it actually goes hand in hand with the video. It allows viewers to determine whether or not they will click on that video and therefore impact your engagement. At The Creative Academy, you can find articles or posts on our social networks where our experts reveal our secrets (or almost) of thumbnails that perform!